Cleveland — Innovation Avenue has become a mainstay of the Sweets & Snacks Expo and is the source for breakthrough, on-trend products from companies venturing into the mass market. Manufacturers slated to exhibit at this year's show tell Candy & Snack TODAY what makes their products stand apart from the competition, and offer insights into the next wave of consumer trends around ingredients and formulations. For more news on game-changing product launches, visit the Sweets & Snacks On Demand Innovation Center.
Ancient Ingrained Snack Co.
Featuring a range of snacks made from superfood sorghum, Ancient Ingrained Snack Co.'s Ka-Pop! was founded by CrossFit instructor and food lover Dustin Finkel, who pitched the brand on ABC's Shark Tank in a superhero costume to highlight the line's "fight" against gluten, GMOs and allergens.
The main ingredient, sorghum, is an ancient grain that is "incredibly" sustainable with more than 90 percent of the plant's acreage not using irrigation, while the crop itself creates healthier soil, according to the company. The line was developed with vegans and those follow plant-based diets in mind, as well as shoppers avoiding the top 12 allergens and gluten.
Available in varieties such rosemary garlic and vegan cheddar, the company reports it spent nearly two years working with flavor providers to develop the line.
Blake's Seed Based
Blake's Seeds Based founder Blake Sorensen has a serve nut allergy, and dissatisfied with his snaking options took to his kitchen to make his own snack bars. After a year of R&D he had finalized the recipe, which includes seeds and fruit in a allergy friendly, nut- and gluten-free vegan snack bar.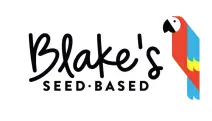 The line includes raspberry, blueberry lemon, s'mores and pineapple varieties, according to the company.
"I quickly realized that people with and without food allergies loved the product," Sorensen says. "Some of our best consumers are people with an active lifestyle and those that typically couldn't shop the bar aisle due to their food allergies."
A self-professed "Parrothead," the brand's tropical bird mascot was inspired by the founder's love for the music of Jimmy Buffett.
CO Chocolate, Inc.
CO Chocolate's products aim to offer a spectrum of flavors with diary free, sugarfree and plant-based formulations in "snackable, stackable" chocolates, according to the company.

The assortment includes espresso, blood orange, Key lime pie, crunchy quinoa, pineapple habanero and coconut.
"Our starting point was to revisit the surprise and delight of the best bitesize formats – products all the better for their sheer variety," says Joanne Bolonda, president and general manager. "Then we got to thinking, what if the variety came from natural, plant-based, better-for-you ingredients? What if we multiplied that variety beyond just a few flavors? And what if we rallied a community to embrace variety as a human truth? We got to work with R&D. After several iterations and 15 months of development, we finalized our product for launch."
Craize Corn, Inc.
Inspired by a popular South American cornmeal patty, known locally as Arepa, Craize Corn's goal is to revive ancestral flavors.
"Using a homegrown method, our super-flavorful snack crackers utilize an innovative slow-toasting process to create a thin crisp with a snacking crunch, while maintaining a focus on greater health, flavor and nutritional value," says Marianna Trivella, trade marketing manager.
The line is vegan, gluten-free, kosher, and flavors include roasted corn, sweet corn, coconut, guava, plantain and seeded.
Chico Nut Co.
Packaging in a microwave-safe plastic container to bring the hot nut eating experience home, Chico Nut Co. is introducing its first consumer-facing brand; Blüm.
The company notes the line uses a unique type of almond that pairs well with its seasonings, which include honey vanilla & sea salt, cinnamon spice, cocoa espresso, garlic parmesan and spicy chili lime.
The idea came from co-developers John Peterson and Breann Montz, who spent about eight months in R&D to perfect the product.
Healthful Habits LLC
Phyter bars were developed by Chef David Choi Jr., who developed the snack bars while in college and has since adopted the formula to meet plant-based product demands. The bars are based on classic desserts, but are made with pureed vegetables, fruits and other plant-based ingredients.
The perseverative-free bars are low in added and total sugar and have six grams of protein.
Varieties in the line include carrot cake, cocoa brownie, peanut butter cookie, apple cinnamon and peanut butter and jelly.
Hemp Love Products
One of the first on the market to merge organic and vegan chocolate bars with nutrient-dense hemp seeds, Hemp Love's line is organic, and free from gluten, soy and dairy, according to the company.
Hemp seed inclusions add texture and nutrients such as vitamins A, C and E, beta-carotene, iron, protein and fiber. Hemp Love produces its range in a vegan-only facility that is also certified CCOF Organic, kosher and non-GMO, according to the company.
"At Hemp Love we want to enrich people's lives through wholesome superfoods that create a delicious and well-balanced experience," says Nancy Kaye, CEO and founder. "With six unique flavors, Hemp Love is a fresh and healthy new way to enjoy a decadent and delicious treat."
Using a blend of cocoa ethically sourced from South America, the line's flavors include mint, cinnamon, orange/vanilla, lavender and peanut butter.
Jesse's WakeUP! Bars
Jesse's WakeUP! Bars are dark chocolatey rice crisp bars with 350 milligrams of plant-based caffeine, according to the company.
Targeted toward coffee drinkers and "caffeine lovers," the company reports it started working on the formulation in 2015. However, the impetus for the brand started when Jesse Osher, owner, was in college and had a harrowing asleep at the wheel moment.
"Heading straight for the woods at high speed, I woke up just in time, slammed on the brakes and narrowly avoided a collision," Osher says. "Since that terrifying incident, I tried product after product to fight moments of low energy and drowsiness, but nothing worked so I started my own research on the subject."
Lil Bucks LLC
Made with buckwheat grow in Minnesota, Lil Bucks' mission is to promote the nutrition, texture and soil health benefits of growing the crop. Its first product Clusterbucks are made with sprouted buckwheat and come in flavors such as turmeric lemon myrtle and chocolate Reishi.
The raw, paleo-friendly snacks are gluten-free and were inspired by the company founder's travels through Australia, where she found widespread use of buckwheat in granolas, toasts, salads and desserts. In fact, the name Clusterbucks is a nod to the brand's Aussie inspiration, according to the company.
Lil bucks reports the line meets consumers' desires for shelf-stable, functional snacks that provide adaptogens, plant-based protein, fiber and antioxidants.
Love Love Sweets
Unprocessed and made with plant-based ingredients, Love Love Sweets offers a range of no-bake desserts that are free of grains, gluten, nuts, refined sugar and agave.
"I needed to change my diet out of necessity due to health issues," says Angelika Kaprelian, founder. "I wanted to still be able to enjoy desserts, however, I found there was a limited selection that met my dietary restrictions. This led me to create Love Love Sweets, an innovative line of unprocessed plant-based desserts that can be enjoyed by everyone."
Items in the line include Sweez (no bake Swiss rolls), Esprezeez (vanilla espresso cake), Pumkineez (pumpkin pie) and Brownieez. The desserts are made with fruits, seeds, maple syrup and coconut, according to the company.
Mighty Gum
Aiming to provide function beyond fresh breath, Mighty Gum's first launch is Immunity, which features adaptogens, botanicals and vitamins to support the body's immune systems. The line is vegan and free from sugar, aspartame, allergens and GMOs, according to the company.
Made using elderberry, Reishi mushrooms, ashwagandha, astragalus and fruits, the brand's mission is to bring back passive and lapsed shoppers to the gum segment by offering long-term benefits, according to the company.
"I founded Mighty Gum in my pursuit to solve a problem I faced — taking vitamins regularly," says Founder Mathew Thalakotur. "When I realized that a lot of my friends faced the same challenge, I set my mind to finding a solution. It was not easy to make, or even to find someone to make, a chewing gum that tastes great without the use of aspartame or artificial flavor while incorporating good for you ingredients. Through all the hurdles and iterations, I kept pushing closer and closer to make my vision a reality."
Among the chief challenges was finding a co-manufacturer that could produce without using heat or moisture, as intensive processing would degrade sensitive ingredients, according to Thalakotur.
MMMint Inc.
MMMint is aiming to shake up the mint market with its namesake Bubble brand, which is a cool melt-away, seamless soft gel bubble, that was inspired by CEO Joshua Morrison's travels and different cultures' takes on mints and dining.
The soft gels have no calories or sugar, according to the company, and have a spearmint flavor. The line spent was in R&D for more than seven years, with Morrison personally overseeing the development.
The brand is geared toward 18 to 45 year old shoppers that are "digitally strong, into gaming and have a sense of humor," according to the company, which adds its target demographic is image conscious, connected within their communities, and favor bold flavors and sharing.
Walrus Snack Brands Inc.
Quevos are the first chip to be made from egg whites, according to Walrus Snack Brands, and have more protein and fewer carbs than traditional chips.
The crispy ends of omelets inspired the line, which took 15 months to develop, the company reports. The line is geared toward consumers interested in fitness, following a keto diet and "anyone looking for a much healthier chip alternative."
Varieties of Quevos chips, which are gluten- and grain-free, include sour cream & onion, sweet BBQ and dill pickle.
Rawmanti Chococlate LLC
Born four years ago out of owner Katarzyna Bosne passion for nutrition, Rawmantic Chococlate's range of plant-based , organic products include nine flavors available in a variety of formulations to meet special dietary needs such as sugarfree, and nut-, dairy-, soy- and gluten-free.
"It started as a part-time hobby while I was testing it on my friends, and family for two full years, until the recipe was perfected," Bosne says. "My mission is to provide consumer with uncompromised quality, taste, and well-being."
Varieties in the bar line include vegan vanilla, sugarfree Fitness, matcha, mixed berry, coconut and carob.
Live Wild Snacks
Aiming to reach health-conscious consumers that are passionate about the environment, Live Wild Snacks, d/b/a Union Snacks is releasing Trail Mix squares, a line of snack bars that combine meat jerky, fruits, nuts, nut butters and seeds, and Charcuterie Crisps inspired by the dressed meat course.
"The original ethos of Union was to create a better-for-you snack company that sources ingredients from farmers with deep environmental care and concerns for our planet," says Founder Zubin Mehta. "We believe you can have the best of the animal kingdom and plant queendom combined, without sacrificing the environment or your health."
The biggest challenge in developing the line was finding a processing method because of water activity, according to Union Snacks. It took two years for the company to perfect its recipes.
Vegetarian Traveler, LLC
Hitting many of today's top trends including plant-based, high protein and gluten-free, Munchy Crunchy Protein snacks are seasoned blends of soybeans and edamame that are GMO-free and high in fiber, according to the Vegetarian Traveler.
The line started as plant-based Protein Toppers, which were designed to be added to any meal for a nutrient boost. However, the company reports consumers were using the product as more of a snack than a meal topper, a behavior that continued as sales grew.
"We added awesome flavors and called this new snack Munchy Crunchy Protein," says Roger P. Jacobi, executive vice-president of sales. "Munchy Crunchy Protein is also ideal for those trying to lose weight, diabetics, fitness and hiking enthusiasts and anyone wanting to add more protein to their diets, such as seniors."
Youtopia Snacks
Offering high levels of protein and low amounts of sugar, Youtopia Snack's line of bars have less than 150 calories and are free from gluten and GMOs, according to the company.
"We wanted to create something lighter than a 250-calorie protein bar, healthier than those sugar-filled granola bars and more filling than boring 100-calorie packs," says Jesse Shapiro, CEO.
He notes the brand started as a graduate school project, which gained traction and has since grown into a full-time venture. Initially the line was positioned as snacks for an office setting, and were called Officebites.
"The idea came from the realization that we're far more mindful about what we eat at main meals than what we snack on while at work," Shapiro says. "Our original goal was to help people form better snacking habits at work. When we realized the product was being used in various settings outside the office, we changed the name to Youtopia Snacks."
The line launched with three varieties: Espresso Obsesso, Bananas for Chocolate and So Money Honey Mustard.