Sweet Insights
2022 State
of Treating
Chocolate and candy have been bright spots in what was, by all accounts, a challenging year for the consumer goods and retail industries. Confectionery remained a powerful and important category, delivering significant contributions to retailer sales and profits, setting new sales records and growing at a faster clip than most other categories – proving once again that consumers view chocolate and candy as special treats in a happy, balanced lifestyle. Our success in 2021 came in part as a result of Americans re-engaging with the confectionery seasons after a tumultuous 2020 in which we were often physically separated from family, friends and neighbors. The other driver of our success in 2021 was the incredible permissibility our category enjoys based on the strong connection between emotional well-being and confectionery. Dive into this preview of NCA's 2022 State of Treating report below to get a closer look at how consumers interacted with our products over the past year.
2021 Category Sales Performance
In all channels, both measured and unmeasured, confectionery sales were as follows:
$21.1B
Chocolate
Total Sales

$12.7B
Non-Chocolate
Total Sales
$3.1B
Gum & Mints
Total Sales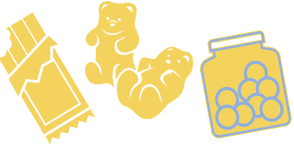 $36.9B
Confectionery
Total Sales
Source: Euromonitor Projections as of February 2022 (rounded)
In IRI-measured channels only, growth for each segment was as follows:
9.2%
Chocolate
2021 Dollar Sales Growth
14.5%
Non-Chocolate
2021 Dollar Sales Growth
3.8%
Gum & Mint
2021 Dollar Sales Growth
Source: IRI, MULO+C, 52 weeks ending 12/26/2021
Channel Choices
71% of shoppers
mostly purchase everyday confectionery at their primary grocery store.
56% of shoppers
mostly purchase seasonal confectionery at their primary grocery store.
2021 Sales Growth by Channel
Source: IRI, 52 weeks ending 12/26/2021
Emotional and
Physical Well-Being

72% of consumers believe that physical health and emotional well-being are interconnected.

78% of all adults believe it is perfectly fine to occasionally treat with chocolate or candy.

47% of consumers occasionally purchase confectionery items they personally deem to have a "better-for-you" profile, though how that determination is made varies widely between demographic groups.
Nearly three-quarters of consumers agree that it is important for chocolate and candy brands to offer a variety of portion sizes.
88% of consumers share chocolate and candy with family and friends at least half of the time they purchase it.
Connecting with Consumers
consumers are connected to a store or confectionery brand on social media.
consumers are interested in learning about a confectionery brand's environmental commitments and social responsibility practices on the package label, the brand's website or social media.
of Americans have researched candy gifting, baking with candy or other inspirational ideas on social media.
of TikTokers participate in food challenges.
Made possible by:

Methodology
This report is based on consumer studies by NCA and 210 Analytics conducted in November 2021 among a national sample of 1,525 consumers between the ages of 18 and 75.
Data Overlay
The attitudinal survey data is complemented by retail measurement and household panel data provided by insights firm IRI for the 52 weeks ending December 26, 2021.
Unless otherwise attributed, data throughout this report are provided by NCA and 210 Analytics.
Get Your 2022 State of Treating Resources:
Looking for Historical Data?